Software environment for the design of composite stuctures
Strategic focus
Composites & Processes
Modeling & Simulation
Industries
LMS Samtech (leader)
e-Xstream
Coexpair
SABCA
Techspace Aero
Aerofleet
Sonaca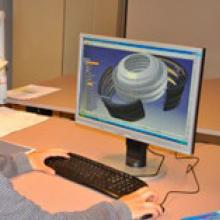 VIRTUALCOMP project is in line with the APC project (Skywin) with a particular emphasis on the establishment of a stand alone numerical simulation platform used in all composite applications for aeronautic sector. 
 
In particular, the software platform developed will be applicable to the modeling and design of advanced composite structures obtained by foldes spreading techniques on complex geometries but also the latest technology for automated fiber placement developed for the aerospace industry.
Virtual Manufacturing methods for composite structures and their effects on the behavior of the final material and of composite structures are one of the most innovative objective of this project.
The project is critical for the aerospace industry and the numerical simulation software industry. Indeed the market of CAE software is constantly evolving in the direction of more performance and the aeronautical industry must reduce aircraft's weight and increase their knowledge of the latest techniques, such as the fiber placement tools.