Skywin's Mission
To sustain and strengthen both technological progress and operational excellence in order to meet the global challenges of the Walloon aerospace industry by developing knowledge, employment and competitiveness for all current and future players in the ecosystem of the aerospace industry in Wallonia.
Skywin's Vision
By 2025, to make Wallonia a region internationally recognised for its world-class competitive, academic, technological and industrial research environment, in the cluster's fields of technology, by enhancing synergies between research and industrial players and consolidating the fabric of the Walloon supply chain for the major clients in high-added-value niche markets.
Context of the competitiveness clusters
The Walloon competitiveness clusters were set up in 2006 as part of the Marshall Plan, and bring together large companies, SMEs, universities, colleges and research centres for implementing industrial projects. The aim is to support and create businesses and jobs. The clusters also aim to raise the international profile of Walloon industry.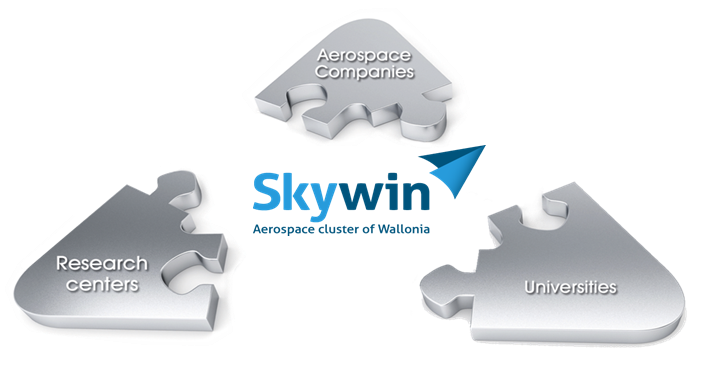 Since their establishment, they have undertaken a genuine renewal of the Walloon economic fabric: they have become the main focus of a major Walloon industrial policy, with results in terms of jobs, new products and innovative services, as well as business start-ups, the fulfilment of many industrial contracts and a very active presence in international markets and networks.
Skywin Wallonia is fully in line with this approach, and is developing a partnership approach aimed at creating synergies around common projects of an innovative nature. And it is proving a success.
With 90% of turnover going to export, internationalisation is paramount. One of Skywin's main objectives is to help all of Wallonia's aerospace SMEs to become key players in cutting-edge segments of the global market.