Usinage Aéronautique Climatisé (Air-conditioned Aerospace Machining)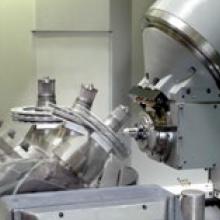 The project U.A.C. aims at building an air-conditioned hangar for large size and high-precision machining operations.
 
Since the beginning of the SW_UAC project many clients show interest for machining opportunities in air-conditioned hangar. It actually turns out that there are very few companies that offer this capability.
This investment has also enabled the acquisition of a very large machine. The purchase was made in order to provide expertise and an increasingly accurate and reliable manufacturing process.
Initially Capaul thought to be limited to a machine of 2 meters. But due to growing interest of its current or potential customers for large application machining in an air-conditioned environment, the decision to invest in a 6-axis machine of 6mx3.5m with turning incorporated has been taken.
Capaul has the ambition to move towards an increasingly precise technology and more reliable manufacturing processes to reduce manufacturing costs (20%). 
Capaul hopes to position itself internationally as a leader in high precision machining for revolution parts of large dimensions.