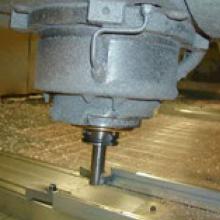 Global aircraft industry (Airbus, Boeing, …), which is naturally very demanding in terms of machining process quality, is gradually equipping its machining centres with miniaturized and optimised micro-lubrication systems.

They contribute to improving the quality and efficiency of the machining process by optimising the cutting conditions of metals and by reducing the consumption of lubricant.
The investment project for the Tecnolub SME consists in providing the company with means that will permit the development of a more global solution and consequently enable the company to propose built-in solutions to OEM.