Advanced composites technologies for complex and integrated components
Industries
Sonaca (leader)
SABCA
Techspace Aero
Samtech
GDTech
Coexpair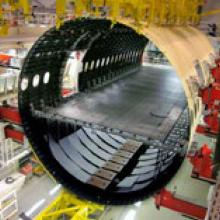 The TECCOMA project focuses on :
the development of useful tools for the large-scale substitution of metal parts with composite parts
the design of integrated parts and the development of composite technologies and their related tools to shorten production cycles.
This will be achieved by improving the automation of implementation, optimization of tooling concepts and industrialization concepts for high speed pace.
The project will also address :
the coatings for composites, their mechanical behavior (including hybrid solutions composite/metal or composite/ thermoplastic and the tolerance to manufacturing defects)
the simulation of the residual strength of composite parts including manufacturing defects,
simulation of the springback effect
the development of a platform combining several non-destructive inspection techniques without contact to visualize defects at any depth on the parts , and data fusion to facilitate the interpretation of these results.