Industries
Coexpair (leader)
Samtech
Pégard
Total budget
3,2 M€ (R&D)
0,6 M€ (Investment)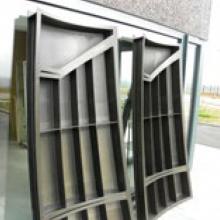 The market covered by the project is currently experiencing a strong growth. On one hand, the economic environment is very favorable to the development of more automated means of production in the sector of aeronautical composites, specifically of manufacturing processes in out-of-autoclave closed molds. Both engines (CFM Leap, etc.) and aircraft structures (A350, B787 ) are covered by these innovative means of production.
In the wake of SW_COSUP, this project is focused on providing products and services for the aviation industry. It will focus on the development of knowledge and innovative technologies for the automation of manufacturing of long fibers composites, related to the production of parts in closed molds (RTM & SQRTM).
The aim of the project is clearly to establish a collaboration between global leaders in the equipment (automation on one side, RTM/SQRTM on the other side) and to develop in Wallonia a unique expertise in this area.
Radius Engineering, partner and minority shareholder of Coexpair, is developing this type of processes for over 20 years with a particularly strong research effort. The research led by Radius established its leadership in the supply of services and equipment related to three industrial processes : RTM, SQRTM and IPM .