Platform for Effective Management of Airports in the domains of Security and Operations
Strategic focus
Économie des données, Intelligence Artificielle
Industries
Thales Belgium (leader)
Vitrociset Belgium
BSCA
M3 Systems Belgium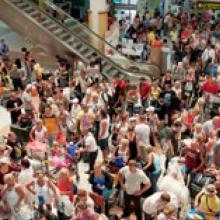 The steady increase in air traffic generates more and more important passengers flow in the airports. All players, airport's managers, airlines or intervention services seek to improve the processes to better meet the growing expectations of customers and to improve security in airport facilities and aircraft.
For this purpose, the SW_PEGASO project aims at developing several innovative technological building blocks to provide a hybrid and autonomous "indoor" positioning capability within an airport area, namely:
autonomous and accurate positioning system in a limited space;
autonomous and "statistical" positioning system in a larger space;
smart fusion of information generating an "augmented" position more reliable and easily available;- monitoring of the quality  of the "augmented" position.
These bricks are integrated in an architecture open to all kinds of sensors which information can be used to deliver the "augmented" position.