Industries
Lebrun (leader)
Garnimetal
Total budget
1,5 M€ (R&D)
1,7 M€ (Investment)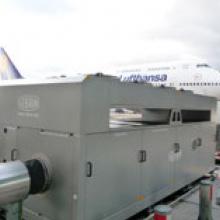 Lebrun is a Walloon company developing a product for 8 years to cool or heat the aircraft when located on the ground.
In its European version, this niche product is technically and functionally superior to competitors (mainly U.S. based). It has been selected by the largest airlines in Europe.
The market for this product is in full growth, especially for environmental reasons: this product will more and more become a substitute to classical APU's (Auxiliary Power Unit's) that are noisy and big kerosene-burners (300 l per hour) in airports.
The objective of this project is to enable Lebrun to:
Perform the technical developments required;
Provide a complete product line around the core technology, and in particular for major markets (Middle East and Far East);
Acquire additional production and development means;
Industrialize the production;
Engage the commercial actions to export this product.