Strategic focus
Space Applications & Systems / Drones
Industries
Deltatec (Leader)
Thalès Alenia Space
Research bodies
ULiège (CSL)
ULouvain (CRC)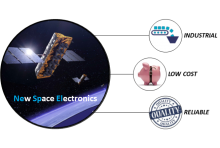 NESPEL (NEw SPace ELectronics) focuses on the evolution required by the NewSpace in embedded electronic systems for satellites: such as less expensive solutions (in terms of development and manufacturing), recurring manufacturing, shortened production times but also by using last generation of processing technologies.
To achieve these objectives, one must work on several fronts: new technological approaches are to be adopted, in particular the combination of different grades of components, flexible development methodologies must be implemented and qualification aspects must be studied in a new way.
The Consortium is made up of 2 industrial companies, THALES ALENIA SPACE BELGIUM and DELTATEC, which cover most of the electronics embedded in satellites and two university laboratories, the CSL (Centre Spatial de Liège) and the CRC (Centre des Resources du Cyclotron), the latter constituting a platform (PFI) labeled by the International Jury of the Government.