Basic industrial research in muti-physics virtual prototyping
Industries
Open Engineering (leader)
Numflo
Samtech
AMOS
GDTech
FZ
Sagita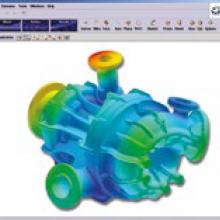 All innovative industries today rely on tools for numerical simulation (CAE) to analyze and predict the behavior of their systems. This covers the areas of mechanical, aerodynamic, thermal, electrical engineering, electromagnetism, optics ...
With the increasing power of computers, a new concept of simulations has emerged, called high-fidelity simulations. This concept, originating mainly from CFD, was born on industrial demand to conduct simulations "as realistic as it can be". This requires to take into account :
many geometric details, leading to aerodynamic meshes up to a hundred million points,
interactions between the flow and other physical phenomena, such as mechanical, thermal, vibro- or aero-acoustics, etc ...
other electromagnetic interactions, optical, radiation, ...
To meet the industrial needs, the partners of the Multiphy project developed a new generation of problem-oriented large-scale software, incorporating new multi-physics coupling features. This has been performed in an extremely user friendly environment leading to optimized and reduced simulation costs (less engineering time is required).