Strategic focus
Structures, propulsion et sous-systèmes volants
Industries
Tecnolub (leader)
BfB Oil Research
Numflo
Taipro Engineering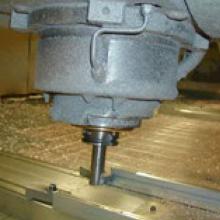 The MicroLub project aims to develop an innovative technique for micro-lubrication of cutting tools for various manufacturing machines.
The following benefits are expected:
strong reduction of the oil consumption (with a target of at least 50% relative to existing Tecnolub micro-lubrication systems, but up to 85% compared to conventional solutions of lubrication);
more efficient use of oil lubrication and cooling by use of localized and optimized micro-jets to form an oil film;
optimum composition of the lubricating biphasic mixture (air-oil, air-oil-nitrogen, ...) according to the machined material, thereby optimizing the use of the lubricant mixture to specific cutting conditions;
the use of adapted lubricants, bio-resistant and bio-degradable;
a secure and effective regulation of flows and operating conditions of the lubricating fluid.
In addition to the advantages mentioned above, this innovation will also:
Get dry or dryer chips that can be more easily recycled;
improve the working environment in workshops, greatly reducing pollution and odors.