Improved Human-Machine Interface
Strategic focus
Space Applications & Systems / Drones
Industries
Thales Alenia Space
Etca, Sonaca,
Techspace Aero,
Samtech, GDTECH ,
Open Engineering,
Cissoid, Deltatec
Research bodies
ULg, ULB, UCL, UMH,
Cenaero, Cetic,
Multitel, CRIBC
Total budget
7,1 M€ (R&D)
0,8 M€ (Training)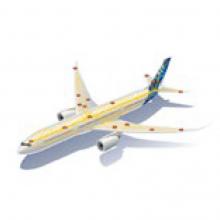 Predictive maintenance is a major goal of the aeronautical sector.It enables to monitor the aircraft's "health" and schedule the technical interventions at the best moment, while complying with the technical and economical tight requirements of maintenance.
To do so, it is required to design, develop and manufacture health monitoring microsystems, built in both aircraft and space structures and systems, which goals are the early detection of problems, the reduction of maintenance costs and the extension of the service life of structures and equipment.
The development will focus on skills that are already high in the Walloon Region (wings, engines and actuation systems).