Generated and Recuperated Energy for Environmental Novelty 
Industries
CENCO (leader)
ACTE
BANP
KS Techniques
INR Bodson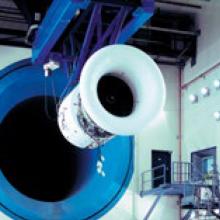 The test benches for aircraft engines allow to perform engine tests of three different types:
turbojets,
turbofans, 
the turboprops / turboshafts (or turbine).
Each type of engine uses a very high amount of energy from the combustion of fuels, and transforms it into different forms of energy:
kinetic (movement, air velocity) 
heat (heat of exhaust gas) and/or 
mechanical (torque applied to the shaft).
The market test benches do not yet offer the possibility of recovering energy although client requirements appear in this area and although international organizations are working to impose more restrictive standards on CO2 emissions in the atmosphere.
SW_GREEN will develop technologies and equipment to recover some parts of the energy and reduce the environmental impact of aircraft engine test benches.