Adapted Infrastructure for GDTech Engineering Office.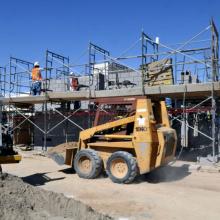 Following 15 years of continuous growth, GDTech will gather all services and its workforce in one single place.  
Early 2015, GDTech finally acquired an existing building in the economic park of Alleur (near Liège).  Thanks to the help of the Walloon region, this 800 sqm building  will be arranged and furbished to answer  the needs of the Engineering office.  
Later on, it will be extended with an additional 600 sqm office area and with a 300 sqm industrial hall.  
These investments will allow more than simple scale economies, it will strengthen the competitiveness of the company, and will improve its innovation capacity in stat-of-the-art simulation technology whilst preserving original synergies with other entities of the group.