Excellence in Development and Assembly 
Strategic focus
Composites & Processes
Modeling & Simulation
Industries
SONACA (leader)
Other Partners:
SKYWIN
WAN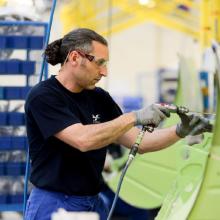 This training project is specifically oriented towards one of the strategic target of Skywin : improving competitiveness of the Walloon Aerospace workforce. 
The "Excellence in Development" part of the project relies essentially on CAD/CAM, numerical simulation and soft skills deployment, whereas the "Excellence in Assembly" axis relies more on processes and quality control.  
The "Excellence in Development" program will help in the acquisition of new development methodologies based on the current best practices and the use of a dedicated and integrated software.  This parts concerns more than 300 engineers for SONACA only. 
The "Excellence in Assembly" program aims at providing continuous training opportunities for all assembly or composite lines workers, leading to perfect mastering of their tasks. This pedagogic approach, already in place at Airbus, can be seen as a "practical training by practice" kind of approach. 
This approach will be developed within a all-new specific training center in which SONACA will invest more than 150 000 euros. 
Thanks to the expected competitiveness improvements, Sonaca has the ambition to strengthen its business portfolio and to consolidate its future.