Earth Observation for the Regions
Strategic focus
Space Applications & Systems / Drones
Industries
Spacebel (leader)
I-MAGE CONSULT
NRB
Research bodies
Ulg
Ecole Royale Militaire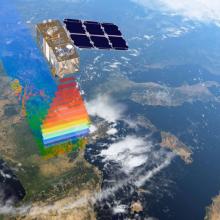 Taking advantage of ambitious ESA programs such as the SENTINEL European mission, the SW_EOREGIONS project's main objective is to develop a range of innovative services in the field of Dynamic Territory Monitoring. Those services will target both professional (experts) and non-professional  users. 
In order to reach this objective, the project must:
Setup an infrastructure for data storage and analysis (of BIG DATA type)
Develop new methodologies and services linked to SENTINEL data (such as change detections, floods, etc.)
Develop new skills to deal with incoherent data in order to compute services accuracy and ensure safe and correct use of the data
Develop a proper data structure that ensures fast and efficient data mining for exploitation by non-expert users
Share and reuse of data and services based on innovative business model that should allow low cost data handling for low cost Earth Observation
Use existing or available geospatial data on the GeoGateway (tool that will be developed and used for commercial services).