Efficient Composites Technologies For Aircraft Components
Industries
Sonaca(leader)
SABCA
Techspace Aero
LMS Samtech
GDTech
Sobelcomp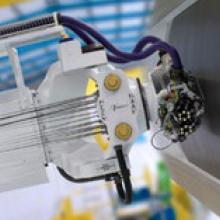 ECOTAC project aims to gain knowledge of AFP (Automated Fiber Placement) & SQRTM/RTM technologies by making   demonstrators for each intended application. The project explores three new technological areas, which have not, or very little,  been explored: 
the fiber placement, 
the SQ-RTM technology and
Non Destructive Testing (NDT of advanced composite structures. 
These technologies will be  evaluated through manufacturing demonstrator  which will be tested through structural tests and compared to existing concepts of production.
The project involves:
Design and sizing of demonstrators,
Preparation of raw materials and preforms and the study of assembly techniques required for the manufacturing process;
Process and materials characterization and development of materials adapted to demonstrator's specific requirements,
Validation of demonstrators by structural testing,
Development of support activities for manufacturing such as modeling tools required to predict the behavior of composite and hybrid structures during the manufacturing process and their life cycle as well as non-destructive inspection techniques for the inspection of  complex composite structures.