CFAO – CAE – METHODS – PROCESSES – QUALITY – SOFT SKILLS
Industries
Board of +20 industries
Training Actors :
WAN (leader)
Technifutur
Technofutur
CdC Management & Commerce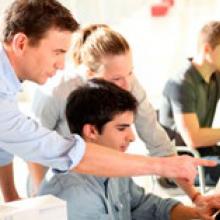 Based on the cluster strategy redefinition work, it was asked to cluster's companies to identify their training needs. To maintain or improve their performance and to get successful R&D and investments projects, the challenge was to identify the goals and objectives of the training actions that will have to be conducted.
Trainings requested by companies and included in the SW_CAMPUSS project are essential for improving the skills of workers, their profitability and thus improving the productivity of their companies.
Skywin implemented the training project SW_CAMPUSS by focusing on three major themes which include the major requirements collected:
one axis on CAM (Computed Aided Manufacturing) and numerical simulation ;
one axis on Methods, Processes & Quality ;
one axis on "Soft Skills".
Trainings that have been developed include:
The design of aircraft structures or equipment and their sizing (computation) ;
Methods for the industrialization of products and the related quality systems required for the certification of these products ;
The "soft skills" thematic alongside technical skills ("hard skills"): efficiency, communication skills, flexibility and adaptability, sense of community, creativity and initiative. All framed in a professional work environment related to the aviation industry.