Strategic focus
Composites & Processes
Modeling & Simulation
Industries
Techspace Aero (leader)
GDTech
Akka Benelux
V2i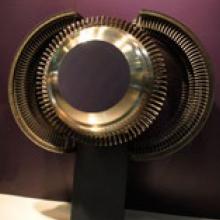 The research on weight reduction led Techspace Aero to develop a new type of rotor for its low pressure compressors, the Bladed druM, abbreviated BluM®. Lightweight and innovative, this rotor will participate in the preparation of new generation boosters which the Walloon company has made a specialty for.
All motorists are now interested in technology of Bladed Disk (Blisk)  which is to provide a rotor stage as a raw disk in which the blades are machined in one bloc. This technology brings undeniable benefits in terms of weight reduction. This project will therefore adapt to the low pressure compressor technology used in high-pressure compressors. The Bladed druM or BluM®, was found to be a promising alternative.
On current jet engines, low pressure compressors are composed of a spool (or drum), with circular slides in which the blades are introduced. BluM® will use the principle of spool (or drum), simple and economical to manufacture, onto which blades are then welded by friction, a technique that begins to develop in the field of aircraft propulsion. It provides precise welding time and very durable results because the mechanical properties of titanium are retained. This approach will reduce the mass of the rotor by 20%, in particular by removing the notches used on "classics" drums.