Augmented Reality Technologies & Enhanced Maintenance for Test Cell
Industries
Safran Aero Boosters (Leader)
Big Bad Wolf
Research bodies
UCLouvain (ELEN - ICTeam)
CETIC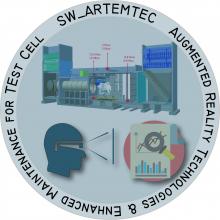 The purpose of the SW_ARTEMTEC research project is to implement modern and advanced tools derived from Big Data and augmented reality technologies to improve and optimize the maintenance of distributed industrial sites around the globe.
The goal is to create a new platform integrating:
on one side, algorithms for predictive maintenance 4.0 applicable to similar geographically distributed sites,

and on the other side, a smart help system facilitating the support of operations maintenance by an on-site technician with remote support from an expert. This help system may also suggest actions based on the results of the predictive maintenance algorithm.
The application cases for this research will be test cells for aeronautical engines.
However, this concept could be used in other industrial applications for geographically distributed infrastructure requiring predictive maintenance 4.0.