High-velocity oxy-fuel and plasma sprays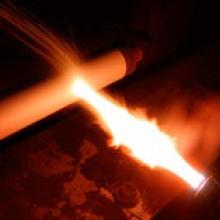 The investment project aims at providing Advanced Coating with a computerized and automated system of plasma spraying and HVOF. This new equipment unique in Wallonia, will also be provided with a two-position turntable and will permit the mass surface coating of aircraft components.
Surface treatment processes will protect parts against wear, fretting or even high temperature oxidation.
In addition to services carried out for companies such as Techspace Aero and Sonaca, Advanced Coating is already working on aircraft programs such as the GP7200 engine for the A380 (for Snecma), the SM146 engine to be installed on the Russian regional aircraft Superjet 100 and components for the A340-600 and Dassault F7X aircraft.