Improvements, Components and Technologies for Observation Instruments
Strategic focus
Space Applications & Systems / Drones
Industries
Deltatec (leader)
AMOS
Spacebel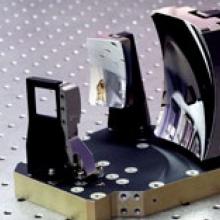 The objective of the ACTIO project is to respond to the evolution of observation instruments towards more commercial environments by addressing two areas of research:
Increase the spatial resolution of the instruments while keeping them in microsatellites;
Develop economically attractive solutions, applicable to many commercial spatial RFI.
Specifically, the project aims at:
Determining a bold and unprecedented mechanical solution to enable a microsatellite PROBA-type  to host a optical observation instrument with high resolution;
Providing solutions to the difficult issues of selecting a component-based instrument adapted to globalized business environments;
Studying the components of instruments optimized in terms of price and performance, specifically targeting optical mirrors and electronics;
Validating all components of the instrument for a high resolution extension.
The purpose of the project is to develop components and know-how needed to produce reliable and efficient compact instruments of observation, and thus propose to the market a very compact and innovative observation instrument.